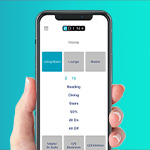 Available now on the App Store and Google Play – the new eDIN+ application from Mode Lighting.
The eDIN+ app is the easiest way to control your lighting and provides simple scene selection and adjustment from your iOS or Android device.
eDIN+ allows you to conveniently control your smart home or commercial project at the touch of a button, no matter where you are. Whatever command you wish to perform, the eDIN+ app makes it quick and simple.
Designed with a clean and straightforward User Interface, the app shows live viewing of your currently active scenes and provides effortless navigation and scene adjustment. Save popular scenes with Favourites for even faster control of your scenes.
The eDIN+ app is now available for Apple and Android devices. Please contact a member of our Sales Team on +44(0)1920 462121 or email sales@modelighting.com for further information.